SgtBullDog
Original channel name: SgtBullDog
Date: August 4, 2021
Sub count: 519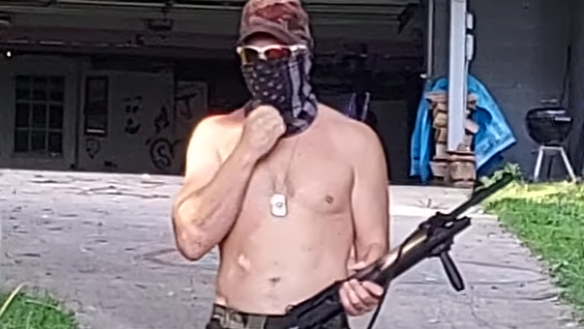 It feels morbid to speak of this event so soon, and I feel so strange as I had followed this saga until the end. Just a mere 5 hours before the tragedy unfolded, I was using his videos as a prime example of what YouTube Kids should not be filled with. On August 5, 2021, "SgtBullDog" took a final stand against his local police and was shot to death in the process.



Part of me feels the need to write this now right after the fact in the off chance any media picks up on it. As mentioned before, I had followed this account from near the beginning, initially found off of a last hour search of "rant." From my understanding, this downfall began with either an HOA or neighbors in his neck of the woods formally complaining about his "grass"/lawn.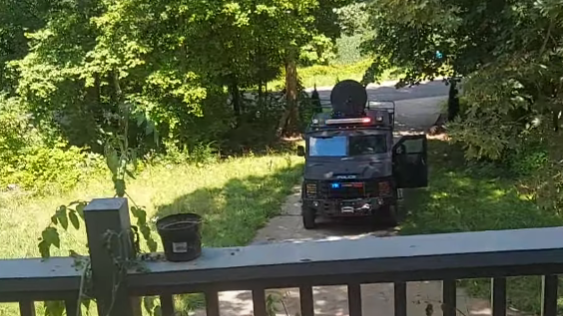 "SgtBullDog's" bio claims he is a "19Yr + 3Tour WarVet," and clearly he was suffering as a result of his service. His bio also mentioned being a member of "Veteran Rehab & Refuge." From his videos, you can tell he was not in a healthy state of mind. His last uploads feel like a deathwish as he chugs alcohol straight out the bottle, begging for a final confrontation. I think he felt disillusioned to have believed he fought so hard for freedoms that were being denied to him in the countryside, which he felt was a sanctuary from the arbitrary nonsense of modern society.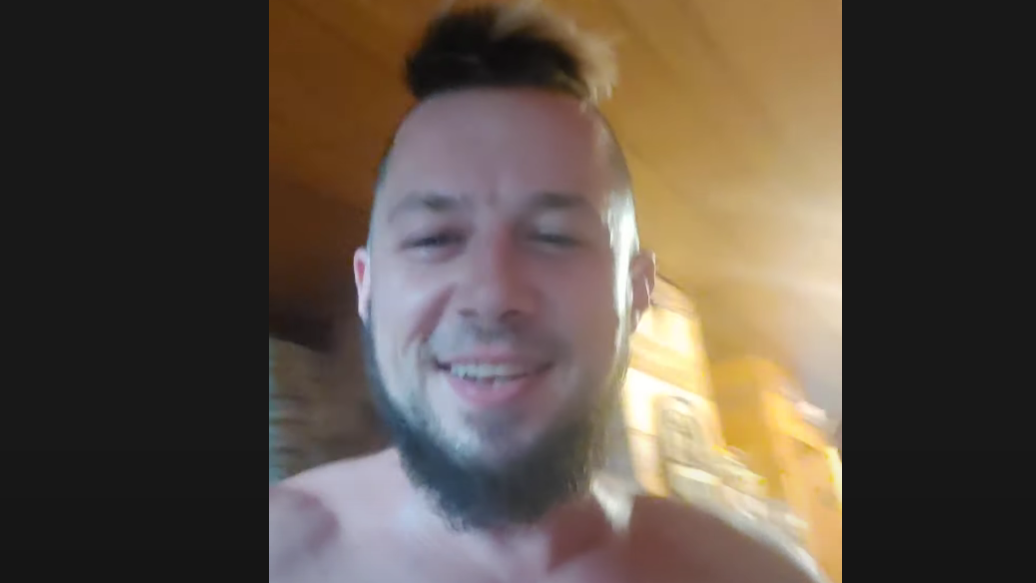 "SgtBullDog" had two books allegedly set for a release, "Dark Side of the Army + Veteran Struggle & Survival Guide." His Veteran Struggle & Survival Guide claims to have been directed towards discussing the shortcomings of the US system's aid for verterans. Given the tragic finale to this man's story, this a book that needs to be published.
"Homeless vets are simply given place to stay and job referral services. If vets could find a good job they wouldn't be homeless in the first place. For addicts, they are thrown in sober environment for short period of time and then thrown right back into same situation leading them to addiction in the first place, while the root cause remains ignored. "
lotus: justice for Maddly Arts
Original channel name: lotus: justice for Maddly Arts
Original video name: "#sosayslotus #LOTUSNOTICE 0719 YOLS 2020 UPDATE #USNAZIS #PEDOJunta"
Date: July 21, 2020
Sub count: 5.45k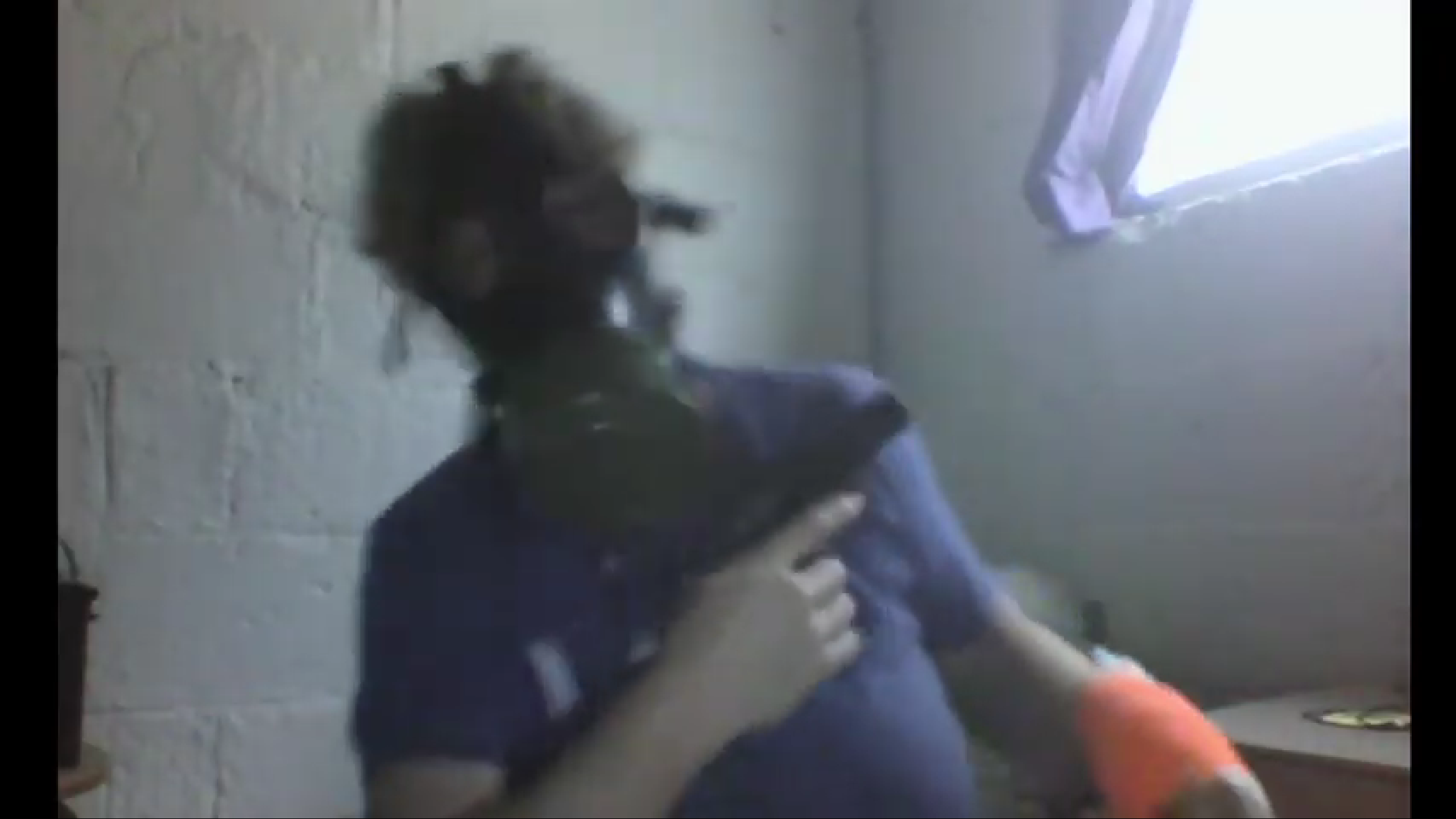 On July 21st, 2020 a woman in Columbus, Ohio attacked the police and fortified herself at her home. She livestreamed the event on YouTube as police tried to talk her out of her basement. Eventually she puts on a gas mask, and the police break through the window, filling the screen with tear gas. There are 6 videos in total of the livestream, of which I was able to download 2. The other 4, along with her entire channel, were removed by YouTube. I recall the stream ending with her still rambling out of frame. I am willing to reupload these if I can find a site willing to host them, and would appreciate it if anyone has copies of the other parts of the livestream. Part 1, part 2, and part 3 can be found mirrored on BitChute. Parts 4-6 appear to be lost media. There were also PDFs in her video description, which I assume is the paper she clings to in the video, but I do not have copies of those either.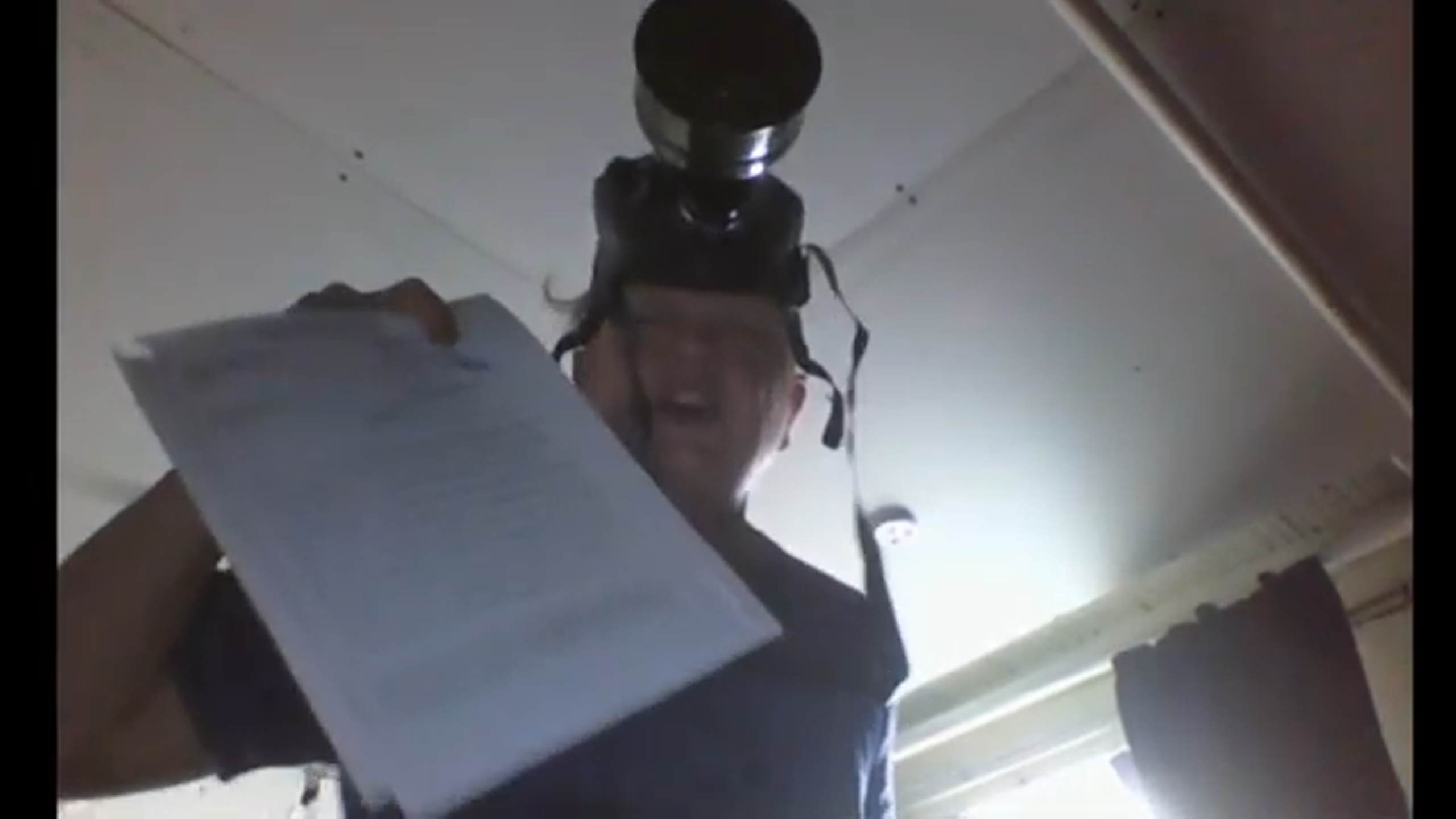 The final livestreams recieved around 600 views as they gained attention on /pol/ due to the streamer being obsessed with missing children and pizza gate style "conspiracies." I tried to find some thread archives but didn't have any luck, searching for "justice for Maddly Arts" doesn't turn up much. So far I haven't been able to find any arrest reports or news stories about this case, but I will keep looking. Perhaps /x/ or /pol/ could shine more light on this, if anyone even remembers at this point.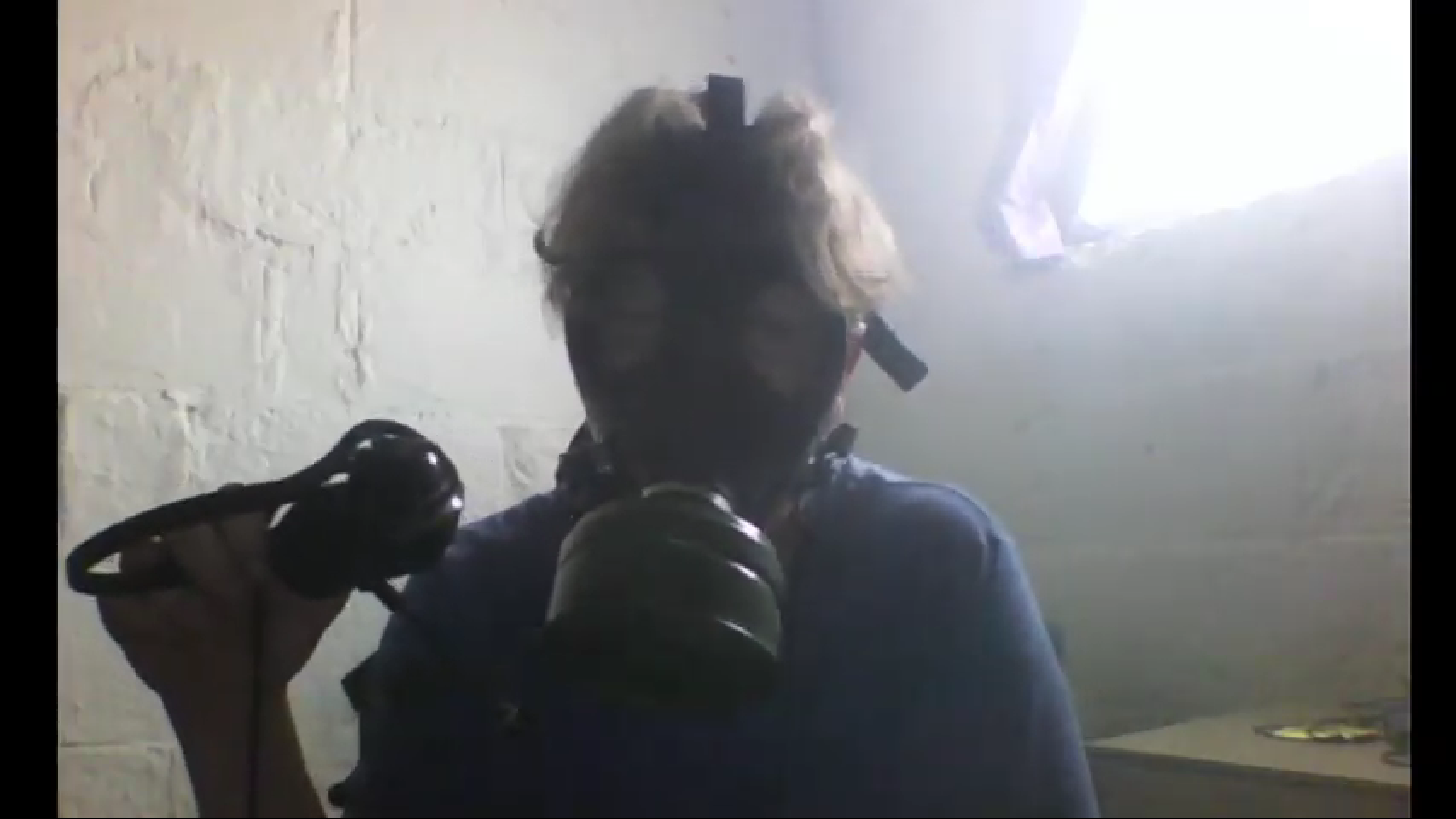 Nasim Najafi Aghdam
Original channel names: Nasim Vegans Surpressed, Nasim Handmades, Nasime Sabz, and Yeşil Nasim
Date: April 3, 2018
Sub count (most popular channel as of most recently available archive): 8,580
Views (across all four channels): 9,200,000


Nasim Najafi Aghdam is an infamous YouTube figure and hardly needs an introduction.
"Around 12:46 p.m. PDT, a shooting occurred at the headquarters of the video-sharing website YouTube in San Bruno, California. The shooter was identified as 38-year-old Nasim Najafi Aghdam, who entered through an exterior parking garage, approached an outdoor patio, and opened fire with a Smith & Wesson 9 mm semi-automatic pistol. Aghdam wounded three people, one of them critically, before killing herself."




Even before the attack on YouTube, Nasim's videos were bizzare, the closest aesthetic comparision I could draw are from Tim and Eric Awesome Show, Great Job! in regards to the heavy presence of both greenscreen and mental illness. Her presence was not limited to YouTube, but clearly this is what she considered the most important, and restrictive, of her main social media.

Nasim's online presence was focused on veganism, body building, art, and animal rights. When you think of the stereotypical perpetrator of mass casualty attacks, by all means Nasim is the last person one would expect, because she didn't fit the national media narrative this could be part of the reason her story seemed to get buried quickly.




What pushed her to do what she did was the alleged censorship, shadow banning, and demonetization of her YouTube accounts. From a statistical standpoint, she is able to back up these trends (to an extent) on her website. Her channels were experiencing declinging viewers, and her monetization was being serverly decreased as a result of the many, and often confusing, sudden changes to YouTube policy. She even alleges that Google as a search engine was stifling her personal website by given false error reports, although I am inclined to believe it could have been the fault of her own server, but no doubt they may have deprioritized her website from the search engine results. The day of the attack, her YouTube channel was removed "due to multiple or severe violations of YouTube's policy against spam, deceptive practices, and misleading content or other Terms of Service violations."

"They only care for personal short term profits & do anything to reach their goals...there is no free speech in real world & you will be suppressed for telling the truth that is not supported by the system."
Her grievances are very real in the present age of social media. The day of her attack every one of her social media accounts, including her own website, were terminated, it is the first time I had ever seen such a coordinated deplatforming effort. While she wished to die a martyr for free speech, perhaps big tech came to use her as the template for deplatforming individuals moving forward.
Monkey Abuse

Date: 2018 - Present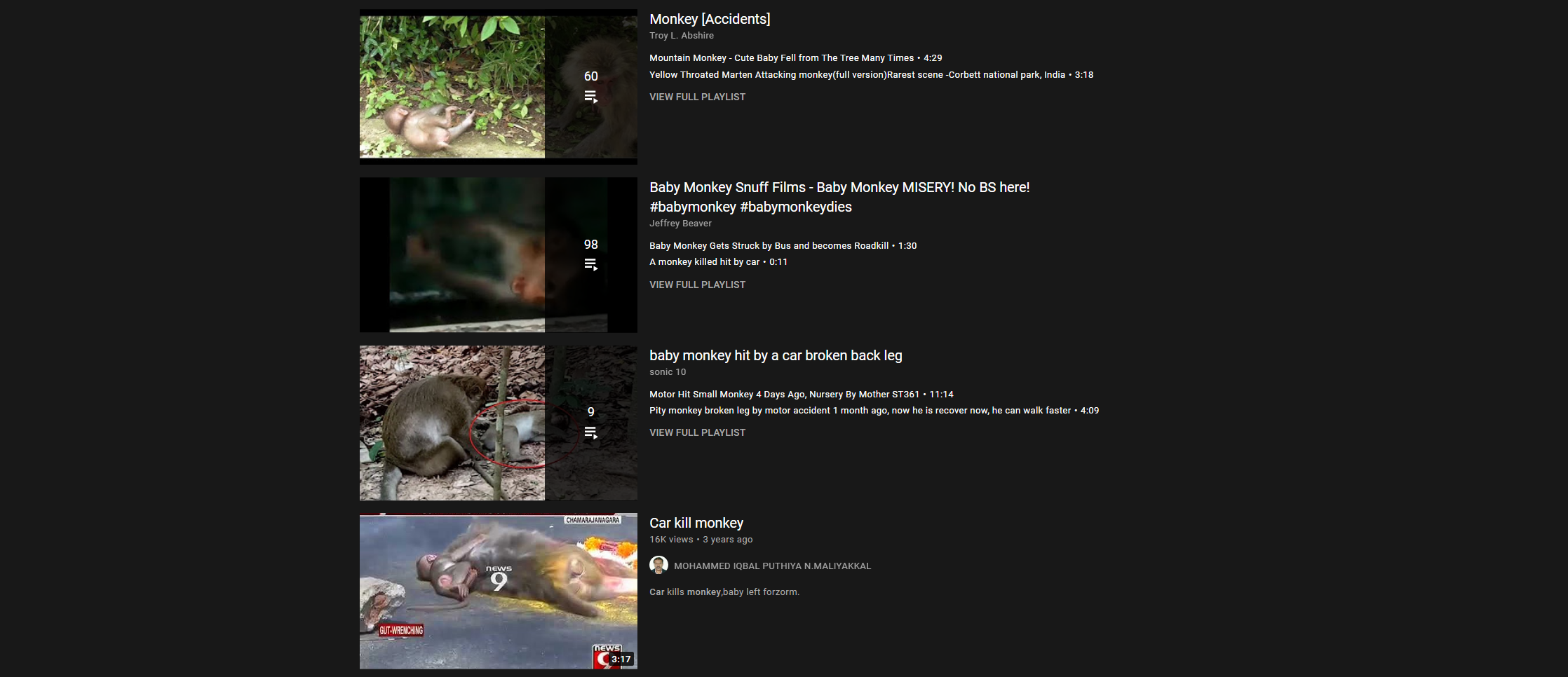 This is a strange social phenomena that is not exclusive to YouTube, but certainly thrives on the site. Often these types of torture and snuff films are compiled into playlists for easy viewing. It's the comment sections that are more so disturbing then the videos themselves. Perhaps it is an attempt at edgy humor, but one can't help but feel some of it is legitimate. I can understand the appeal of gore videos (RIP LiveLeak) but anyone commenting genuine encouragement and envy of that type of material clearly has issues.





The skeptic in me has me suspecting (hoping!) these could be bot accounts, given the lack of profile pictures and generic names, but then that begs the question of why such accounts exist to even serve this purpose?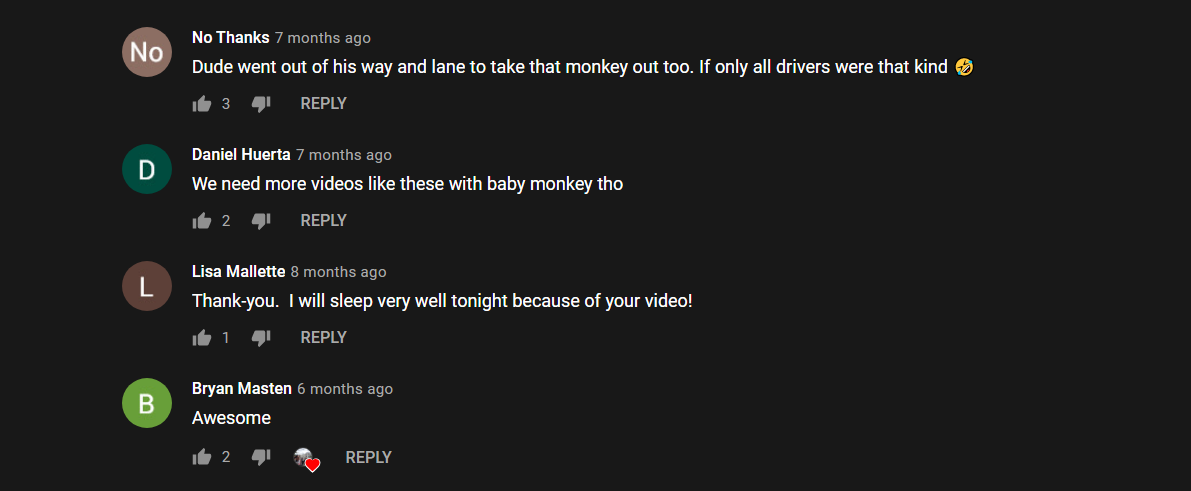 Parts of this "subculture" is organized more along the lines of a crime syndicate. Vice writes that there is a thriving economy revolving around monkey abuse video production in which users "purchase" an adopted monkey, and then pay to have videos made using their recommended methods of torture.
I have seen this for other animals as well, last I recall I was browsing a random playlist of videos a few months ago and then there was a long stretch of videos such as nerve gas tests on rabbits, injured rabbits, etc.
Unfortunately...